Should I Stay on Maui's North Shore?
The North Shore isn't a developed resort destination. If that's music to your ears, our "Should I Stay on Maui's North Shore?" article will tell you a lot more of what you can expect by choosing to stay on our North Shore.
Read more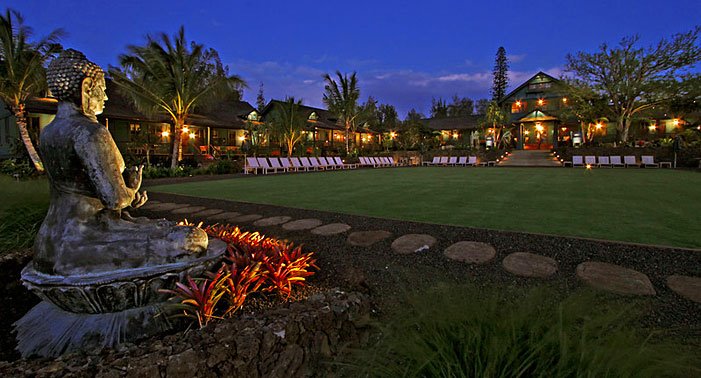 Contact: Contact Form
Rates & Booking:
King Room: $299/nt.
King Room booking page
2-Beds: $299/nt.
2-Bed Room booking page
Suite: $399/nt.
Suite booking page
Summary
A fine 24-room boutique retreat with a higher purpose than just lodging: Lumeria's promise is "to refresh, enlighten and connect you to the natural rhythm of your soul through classes, programs and retreats in yoga, meditation and watersports."
Details
The perfect place for busy people who have discovered that re-connecting is far more powerful and restorative than dis-connecting. Visitors who will enjoy Lumeria come to unplug, reconnect, restore, explore, learn and experience the present moment in a beautiful island paradise.
Lumeria offers high-quality lodging infused with an insightful selection of self-growth programs. Yoga is generously represented both onsite and at their studio in Paia. No matter what form of yoga you practice, chances are they have plenty to offer. (More in the Yoga section below.)
Lumeria also has classes and programs in organic gardening, watersports, wellbeing, Hawaiian culture, metaphysical studies, hiking & cleanses. Besides the daily classes, there are also special events and workshops throughout the year.
Location
Located on Maui's North Shore just minutes from the ocean between Paia and Makawao; the location is tailor-made for people who are active and want to experience a little of everything that Maui has to offer.
The North Shore is peacefully insulated away from the commercialized touristy areas, but quite centrally located. (In fact, as an active explorer and writer, I've chosen the North Shore as my home.)
A dozen wonderful and uncrowded North Shore beaches are within minutes. The Road To Hana also begins just a short drive from here. Haleakala Crater and Upcountry are closer and more conveniently accessed than from other locations. West and South Maui, as well as the rest of the island, are all easily within reach.
There are also unique shops and delicious restaurants in both Paia and Makawao. Maui's best natural foods store, Mana Foods, and one of the island's best restaurants (with the best views to match), Mama's Fish House, are both on the North Shore as well.
Building, Property & Common Areas
Fully restored in 2012, Lumeria is Xorin Balbes' enlightened reinvention of the 1909 Fred C. Baldwin Memorial Home. A classic example of Hawaiian Plantation architecture, the estate is Listed in the National Registry of Historic Places.
Lumeria sits among six lush and lovingly manicured tropical acres; deep-blue ocean views can be enjoyed as you gaze down toward the shoreline; majestic, sweeping Haleakala mountain views grace the mauka vistas.
The main buildings are all connected by long covered lanai walkways, halmarks of the open Plantation style. The lanais hug the large central courtyard in a U shape running along the length of the buildings.
Xorin is an award winning architectural conservator featured in Architectural Digest, Metropolitan Home and HGTV and has restored many historically and architecturally significant projects. The original structures have been fully restored while simultaneously being upgraded to luxury standards. Xorin is a genius when it comes to creating what he has coined "soul-centered living spaces"; in fact, he literally wrote the book on the subject, called SoulSpace: Transform Your Home, Transform Your Life. [amazon.com]
Strolling though the common areas you'll find several spaces that have been designed in out-of-this-world transformative metaphysical themes. A stately conference area appears as if it awaits powerful shamans to powwow. A lounging area invites you to relax on plush sofas and cushions. Significant crystal specimens, elaborate chandeliers and funky local artwork punctuate a penetrating combination of textures and colors. These are remarkably dramatic rooms that will take a hold of your senses and demand your attention.
Clearly Xorin's heart-and-soul are in this masterpiece – he left his amazingly successful life working with Hollywood's elite in real-estate and moved to reside here at Lumeria. There is the obvious added level of attention to detail the staff attains when the creator and owner is on-hand, but perhaps the most impressive aspect at Lumeria is not the stunningly exceptional work on the surface – but that everything here feels as if it comes from a shared space somewhere far deeper. There is something intangible felt here – a visceral sense absolutely impossible for me to capture – undeniably it can be felt when you're present and breathe Lumeria in for yourself.
Guest Rooms
In striking contrast to the grand common areas, the private guest rooms are well appointed and comfortable, achieving a clean and uncluttered ascetic of zen simplicity. Original artworks from Maui artisans compliment the rooms. Balinese furniture, high-quality bedding, riverstone showers, Japanese tansu vanities. Classy, elegant quality.
Lumeria has rooms for 1, 2 or 3 person occupancy. "King Rooms" are configured much like a hotel room with a single king bed. "Suites" are set up with a King bedroom and an attached living room; the living room has a comfy full size daybed. "2-Bed Rooms" have two beds (Hotel-style – and usually a Queen plus a Twin, though other configurations are available upon request.)
In keeping with the re-connect theme, you won't find televisions in any guest rooms (though you will find WiFi and ipod docking stations.)
Dining
There is a farm-to-table kitchen and dining room with a professional chef on staff. Daily organic breakfast is included for all guests. Picnic lunches can be ordered, and full (served) dinners are also available. Foods served are organic and locally sourced – in fact, much of the food is grown right here in Lumeria's gardens. There is an ocean-view open-air lanai adjacent to the dining room so you can also enjoy dining in the balmy island breezes.
Yoga
Maui has no shortage of top-notch Yoga instructors, and Lumeria has hand-picked an impressive selection from our community. Daily yoga is included in the nightly rate, and there are many opportunities to take advantage, both on the Lumeria Property and at their studio in Paia. Outdoor yoga classes are periodically offered in the grassy courtyard as well.
More photos below the map.

View Lumeria Maui in a larger map