Category: 'Beaches | Central Maui' by rating
Last updated 07. Mar, 2014 by Mark.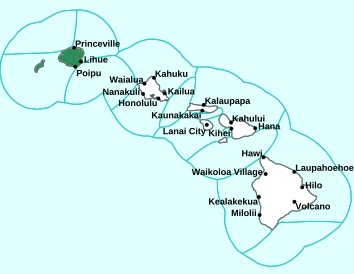 March 7, 2014 7:48 AM
High Surf Notification 02 – HIGH SURF WARNING
EVENTS: The National Weather Service in Honolulu has continued the HIGH SURF WARNING for NORTH and WEST FACING SHORES of MOLOKAI and NORTH FACING SHORES of MAUI, in effect from until 6:00 a.m. Sunday.
A High Surf Warning means that dangerous, battering waves will pound the shoreline. This will result in very dangerous swimming conditions, and deadly rip currents.
EFFECTS: A strong low, northwest of the Islands, has generated a large northwest swell that will arrive today …
Last updated 29. Sep, 2009 by Mark.
In a nutshell: Central Maui is the isthmus between West Maui and Haleakala. It is also where most business gets done on Maui. Visitors will pass through here several times, usually on the way to somewhere else.
Minuses: The Pu'unene Sugar Mill spewing smoke from its stacks into the blue sky sure is a buzzkill.
Sound-bite: "OMG, OGG!"
Central Maui is where Maui's business gets done. The Kahului Airport and Harbor are where all our "stuff" (and people) come in. The Maui County government, Costco, …
Last updated 04. Aug, 2010 by Mark.
In normal conditions, on beaches where there are lifeguards, the ocean is relatively safe to play. But conditions can change, and the surf can get big, rip currents form, and swimming can become dangerous at even what appear to be the tamest of beaches.
At beaches with lifeguards, look out for orange high-surf flags in the sand. If they are present, visit the lifeguard stand to read or talk to a lifeguard about the conditions.
Keep in mind that the county almost never closes beaches during dangerous conditions. Flags and …
Last updated 16. Dec, 2010 by lilikoi.
Rating:





In a nutshell: Two mile stretch of rough/raw beaches and tidepools. Frequently used by fishermen and windsurfers.
Minuses: Directly in flight path of Kahului Airport. Attracts some "iffy-characters."
Sound-bite: [Roar of jet engines]
DETAILS:
Actually more than one beach, "Spreckelsville Beach" is the historic name for a two mile stretch of beaches from Baby Beach in Spreckelsville to Kanaha Beach in Kahului. Most of these beaches have been left to the windsurfers, fishermen, and Maui's well-hidden homeless population. With recent development in the area, …
Last updated 15. Jan, 2014 by Mark.
Rating:





In a nutshell: South Kihei Road passes along scenic shoreline with long beaches.
Minuses: It's all relative!
Sound-bite: [wind]
Summary:
North & South Kihei Road hugs the coastline from Ma'alaea through Kihei. The northern end of these beaches seem to have been heaven-made for launching canoes, walking, running and beachcombing.
Wind here is often stronger in the afternoon, so it is great for kite and windsurfing, but laying in the sand during this time can often become a sandblasting …