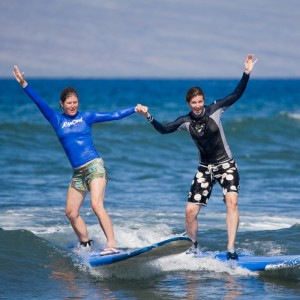 Rating:





In a nutshell: Surfing is equal parts sport, addiction, lust and zen meditation; describing it is impossible.
Minuses: Once you start surfing, you may find it difficult to show up for some of life's less important things…like work…
Sound-bite: "Oh my God! Lets do it again!"
The world is composed of approximately seventy percent water, which means that every sea on earth has a surfing spot. What makes Maui so special? Why would a beginner want to learn on our little island of paradise?
The most obvious reason is that surfing is synonymous with Hawaii – in fact it originated here. But there are many other reasons that you should take advantage of the opportunity to learn how to surf during your vacation. Some of the best beginner waves (and best surf schools to go with them) can be found on Maui's west and south sides. If you decide to learn to surf on Maui's west side, you will not only be elated by catching your first wave but you will be in 'awe' by the picturesque west Maui mountains as the backdrop. If you are lucky, you may even see a rainbow stretching over the mountain tops to cap it all off. If taking a lesson on the south side, you're walking distance to some of the best grinds (food) in Maui (which is a serious priority after a surf lesson!)
In addition to the best beginner waves anywhere, and possible turtle sightings while on your surfboard, your surf lesson in Maui will also be given in the crystal clear, turquoise waters that draw visitors from all over the world. Oh, and did I forget to mention that surfing here doesn't require a wetsuit? No wetsuit, warm water, best waves, turtles…how could you resist this perfect setting for your very first wave!?!
What to Expect
So, what should you expect for your first beginner surf lesson? First of all, surf lessons (and surfing) should always be fun! If you are able to laugh at yourself (even the naturally athletic may be humbled by a couple of not-so-graceful wipe-outs), you are right on track. Surf lessons are typically 2 hours and should be at a maximum ratio of 5:1 (5 students to 1 instructor.)
At the beginning of your surf lesson, your surf instructor will do a brief check-in and introduction. After the intros, it time for a land lesson. Your class time on the beach will include things like safety, ocean awareness, anatomy of a surfboard and last but not least, surf etiquette – all critical to having fun once you hit the water. On the land, you'll also receive instruction on how to pop up on a surfboard, how to ride the surfboard, and how to safely end your ride.
After your land lesson, is the time you've been waiting for – time to hit the ocean! This is where the true test lies, so hopefully you have paid attention to your surf instructor. Once in the water, the surf instructor will corral you in a group and call you over one at a time. During your turn, your instructor will watch for the perfect wave, and once it is coming, he/she will give you a slight push (I call it a love pat) into the wave. This is when the fun begins! Once you feel the push, it's time to pop-up and enjoy the ride. Nothing beats your first wave!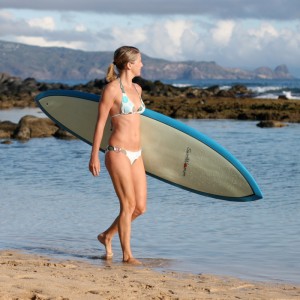 Where Should I Go?
There are many options to choose from for surf lessons on Maui. If you wish to take a beginner or intermediate surf lesson on Maui's west side, Maui Surfer Girls and Rivers to The Sea would be your best bet. Maui Surfer Girls, owned and operated by Hawaiian native and water women Dustin Tester, has been going strong for 10 years. She also runs life changing surf camps for girls 12-18. Rivers to the Sea, is owned by Tide and Kiva Rivers two brothers who have gained respect through their solid surfing on Maui's North Shore waves. If Maui's south side suits you better, be sure to check out Wailea Water Sports. Owned by lifetime surfer Val Frey, Wailea Water Sports also includes lessons in Kayaking and Stand Up Paddle Boarding. Other surf schools you can contact are Goofy Foot Surf School and Maui Wave Riders (the website appears to have gone down as of last check. I will confirm if they're still operating and update.)
(Below maps contain all the instructors listed in Google)
Google Map for Maui Surf Instructors
Google Map for Maui Windsurfing Instructors
Google Map for Maui Kiteboarding Instructors
After you have taken your first surf lesson and caught some awesome waves, there's a chance you'll be unable to stop thinking and talking about surfing day and night! Not to be alarmed if this happens to you, it is called the "surfing bug", and you're definitely in the right place to remedy what ails you!
Surfing Retreats
If you return home and surfing every day remains a dream of yours, then you may be interested in attending a surf camp vacation on Maui. All inclusive SwellWomen retreats offer surfing every day, plus yoga, a private chef, massages and excursions. Essentially, a dream surf and yoga wellness adventure for women (there are SwellCo-ed vacations where men are welcome as well.)
If you're dreaming of surfing perfect waves, there is no better place in the world than Maui to make that dream a reality – what are you waiting for?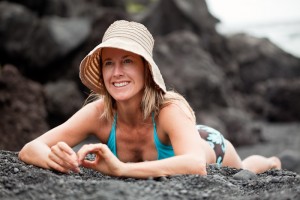 About the Author Me-Shell Mijangos, an ex-professional snowboarder, left the corporate world of NYC to follow her bliss in Maui, Hawaii. She is the founder of an all inclusive women's surf camp called SwellWomen. Three years ago, she started SwellCo-ed, a Surf and Yoga Experience for women, men and couples. She hopes to surf with you in paradise soon!
I hope to see you in the water soon. Enjoy your first ride!