Background
A visitor named Shelby emailed me, telling me about a wonderful memory she had visiting 'Ohe'o as a child, and hiking the Pipiwai trail. She wanted to hand down the gift of such fond family memories to her children, and generously gave a gift to sponsor my writing. I have written a full-day MauiGuidebook.com article for her to maximize time at 'Ohe'o and since she is staying in Wailea the whole time, the best way to have her do both was to split off the rest of the Road to Hana into its own day. This is that part of their itinerary.

Please note that Shelby communicated that the whole family is athletic, in good shape and strong swimmers. The children are not typical for their ages, but much advanced in hiking and swimming ability. This itinerary will need to be adjusted appropriately for those who don't fit this fit description – please be aware that Maui is natural, rugged, and you can be unprotected. Survey the environment and proceed appropriately. If you are ever in doubt as to something being safe, skip it. Don't become a tragic addition to the stories of people who didn't give the respect to the power of our ocean and land.
First things first, if you are planning on driving the Road to Hana, but don't know anything about it – check out this quick overview: Road to Hana – Quick Summary
Items To Bring
– Everything will get wet and muddy.
– Food & Water (cooler?)
– Backpack(s)
– Sunscreen
– Consider mosquito repellent & a simple first-aid kit
– Pocket Knife (for fruits you may find)
– Bathing Suits
– Changes of clothing
– Camera
– Towels
– Plastic trash bags for wet/muddy clothing
– Ziplocks for camera/phone/etc.
– Good footwear for mud and water.
– Flashlight
– Printouts of all the articles suggested below (there is no Internet/cell service in most areas.)
Notes on driving:
– Pull over to let locals pass you. This is the only road, and most want to get through their long "commute" faster than you'll expect is possible.
– Rental car breakins are known all over Maui. Do not leave any valuables in your car (out-of-sight and trunk are no safer.) I suggest that you leave your car doors unlocked, and if it is dry, even consider leaving your windows open – it will save you from broken glass.
One Day Road To Hana
(note: this skips 'Ohe'o (aka Seven Sacred Pools) which is done on another day)
The Road to Hana can take a lifetime to explore, every time is a unique adventure. Don't allow a desire to "see it all" overcome your moments, the Road to Hana has a way of unfolding before you (if you let it!) Stay connected to the inspiration that will guide you as you move along the framework below – you may find yourself somewhere not even listed, or spending much longer at one of these places – when this inspiration happens, embrace it – that is the magic of the Road to Hana.
I have laid out a rough time-table – the times are not for creating a rigid schedule – more a tool to understand expected timing between/at locations of interest. You are encouraged to take/leave/adjust items as your day unfolds.
The Night Before
Top off gas tank the end of day before the trip. (You can also conveniently top off in Paia in the am of your trip.)
Pack your stuff (list at top.)
~6:45 am – Depart hotel for Paia Town
~45 Minutes
~7:30 am – Paia Town (most shops closed in am – come back to explore North Shore shops, restaurants & beaches another day!)
If you don't have at least 3/4 tank of gas, first gas station on the right, fill up your tank.
Just after the gas station (also on the right) is Anthony's Coffee Company (opens at 5:30 am) – this is a good option for breakfast.
~30 Minutes
~8:00 am – Mana Foods (Right at traffic light, Baldwin Ave, just up the road from Hana Hwy in Paia)
Stock up on all the other food/beverage needs for the trip here.
This is the best grocery store on Maui for price, quality and selection, so overstocking here will pay off on your following days!
(*important: they open at 8am, so if you start off earlier, or skip Anthony's, they won't be open and you will need to have set up your snack & drink needs ahead of time. There are also funky places of convenience to stop on the way, so you won't starve!)
~20 Minutes
~8:20 to ~11:00 – Paia to Waianapanapa
You won't have enough time on a one-day trip to stop at the longer adventures in this area, and will be bound more to the roadside attractions and the view from the road – there is roughly an hour outside the car allotted in this schedule, though you could easily spend more than the whole day at just a few of these sites. That said, there are quite a number of roadside sights – so you will have a full day and be satisfied observing many of the sights on this part of the trip in a drive-through fashion.
You will see many roadside waterfalls and sights not listed below. Trust your intuition, stop and explore on a whim!
Some worthy considerations, in geographic order:
*note, mile markers reset at the first mile marker 16, which is ~8 miles after Paia.
[2.1 mm] – Twin Falls (Well maintained, easy hike to many waterfalls and pools. Parking. Great fruit stand. By donation.)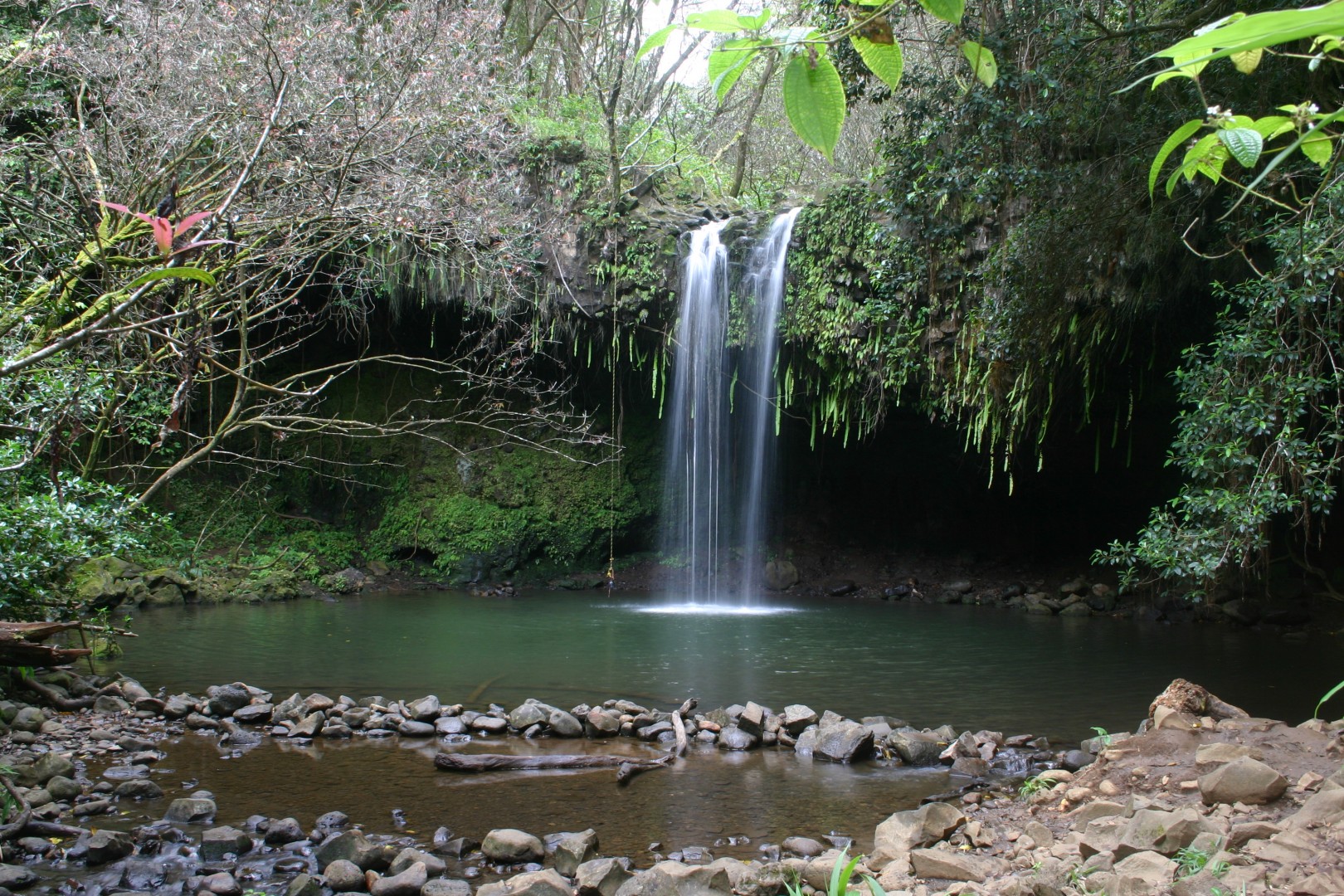 Twin Falls
[6.7 mm] – Na'ili'ili-Haele Stream & Waterfalls (Moderately difficult/slippery hike through bamboo, pools & waterfalls)
[10.5 mm] – Garden of Eden (Very well maintained arboretum. Trails & drive-though options. Parking. Snack stand. Kids love feeding the ducks. Picnic tables. $15/person.)
[14.1 mm] – Honomanu Bay (You can see from the road, make the call to stop when you drive-by)
[16.7 mm] – Ke'anae Arboretum (Public arboretum, easy walking trail, part paved.)
[16.8 mm] – Ke'anae Peninsula (Very scenic, rugged, drive-up shoreline area. Good snack stand.)
[16.8 mm] – Wailua & Wailua Valley State Wayside (Great views of Wailua Valley from road, if you want to stop, best place is to pull into the very tiny wayside where you will have great views both mauka and makai.)
[19.6 mm] – Upper Waikani Falls (Great view from road. You can decide to stop and swim here if it looks tempting!)
[~28 mm] – Nahiku Marketplace – (the jungle's shack version of a "stripmall" – several good snack stands and a few little shops)
~2 Hours 40 Minutes
~11:00 – [32 mm] Waianapanapa Park
Updates: There is now a reservation system required to enter here. Also the caves are sadly closed for safety :(/strong>
Don't miss this one. Definitely have your kids do the swim in the caves (it is cold, but go with them!) This is where the flashlight will come in handy. Check out the coastline and ocean-side cliff views, visit the black sand beach and the kids will love going in the cave down there, too.
~1 Hour 30 Minutes
~12:30 – Lunch
You can eat your picnic lunch at Waianapanapa if you brought one.
If you wanted to buy lunch I suggest stopping at Bruddah Hut's roadside (literally someone's front yard) BBQ, which is just past Hasegawa Store and the gas station on the far side of Hana Town. (Hana Town is small…you can't miss it!) Hasegawa Store is a good place to get staples (water, snacks, etc) you may have forgotten. Hasegawa is a Hana institution; a cluttered old-time General Store. It is worth a stop if you need to grab something, but expect "middle of nowhere" pricing and odd selection.
~45 Minutes
1:30 – Red Sand Beach
Read the article carefully. You will need the map & directions to find it.
~1 Hour 15 Minutes
~2:45 – Hana to Kipahulu
Note: Mile Markers reset after 35 – the following marker is 51 and the go down from here.
Notable:
[50.1mm] – Koki Beach & Hamoa Beach
[48.1mm] – Waioka Pond (not suitable for most visitors, please read article carefully!)
[44.8mm] – Wailua Falls (May be crowded. Stop anyway, the falls are pretty and Auntie Sharon and other vendors here are nice to talk to and buy a thing or two from!)
Return:
You can return on the backside or the way you came. If you did your Kipahulu day first (suggested) this will be an easy decision. It is roughly the same drive time either way; all things being equal, I suggest the backside as you will have a nice sunset view and the road opens up as it gets dark.
Map:
This Map has highlights which I have written articles about on a map, so you can see the order of the sites.
Have a spectacular time!